SOLUTION
Tell compelling and relevant stories of LGBT staff and Straight Allies working at Booz Allen and increase awareness of LGBT issues to Booz Allen staff.
Role
Communications Chair, Editor-in-Chief
Challenge
How do we raise the profile of the LGBT Community at Booz Allen?
Background
From 2012-2014 I served as the Communications Chair of the Board of Booz Allen Hamilton's Lesbian, Gay, Bisexual, Transgender and Straight Ally Diversity Forum called GLOBE. Our team rebranded the Forum and introduced a transmedia storytelling approach to telling the stories of Lesbian, Gay, Bisexual, Transgender, Queer, Questioning (LGBTQQ) and Straight Ally staff across the firm.
Recognized as the most recognizable and prolific Diversity Forum, we are often looked to as the "gold standard" of branding and communications throughout Booz Allen. This work has received numerous honors, including the Booz Allen Excellence Award and has been shown at the Human Rights Campaign and Washington, DC AIDS Walk events.
Booz Allen Hamilton's "It Gets Better" Video
In response to LGBT students taking their own lives after being bullied in school, the It Gets Better movement started by Dan Savage, creates a personal way for supporters everywhere to tell LGBT youth that it indeed gets better.
This video is Booz Allen's official offering to this movement. For this project, the team received the firm's top honors--the Booz Allen Excellence Award in the Diversity and Inclusion category, and received accolades from across the world for Booz Allen's support of the community.
GLOBE OutReach Magazine
In 2012, while looking for new ways to tell the stories of LGBTQQ and Straight Ally staff from across the firm, the idea for a magazine came to play. OutReach is a labor of love between a writing and design staff of eight.
I produced six issues of this online and print magazine, which has grown to more than 50 pages of stories, profiles, and coverage of events throughout GLOBE. I am most proud of the all-Womens issue that I spearheaded and led as I was leaving the Board.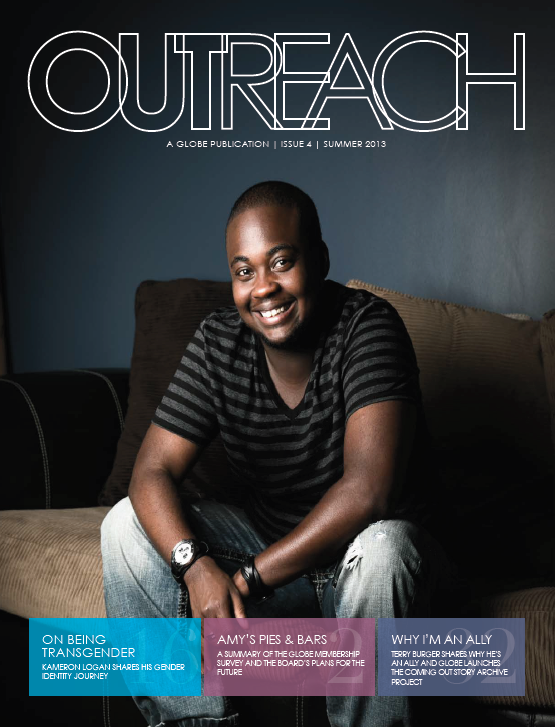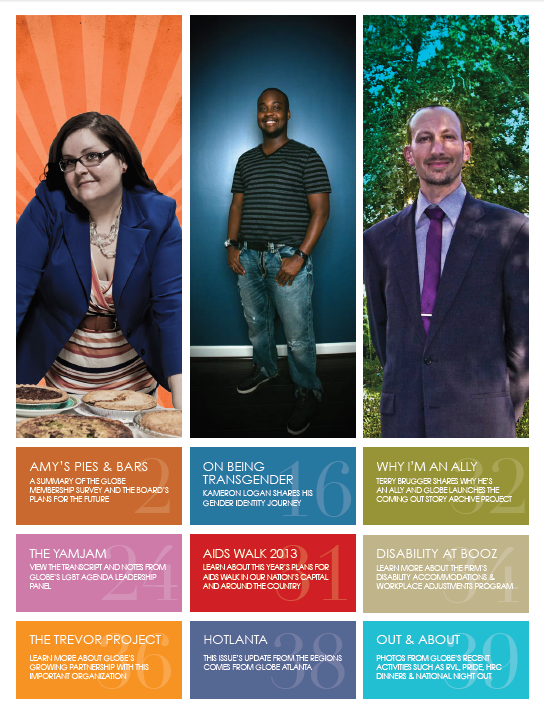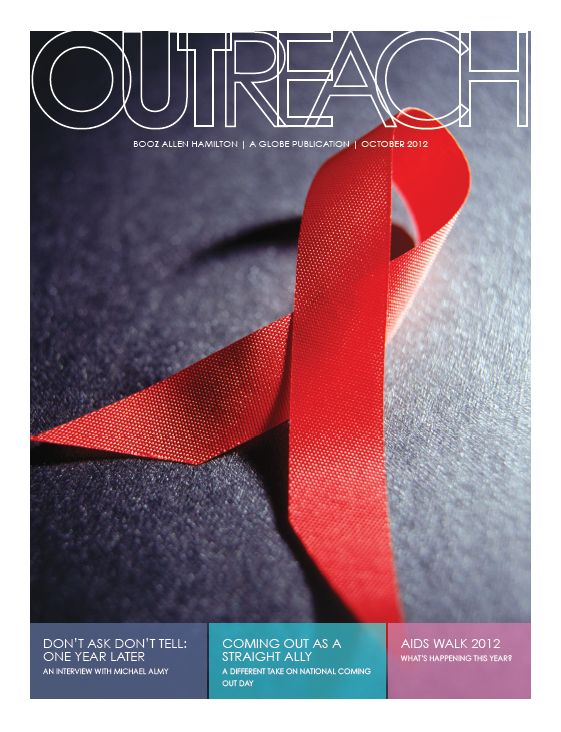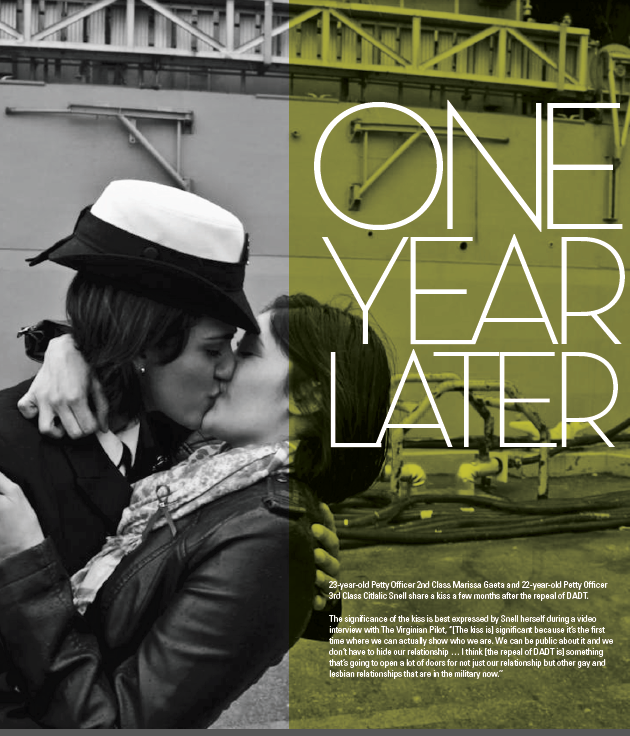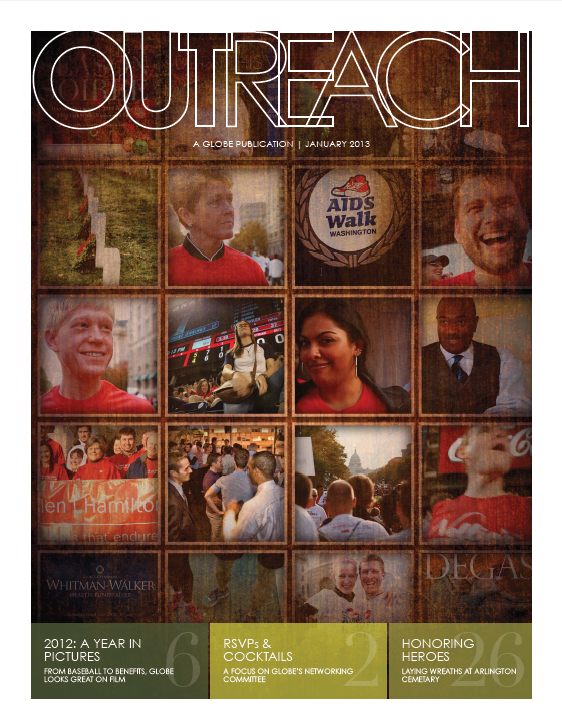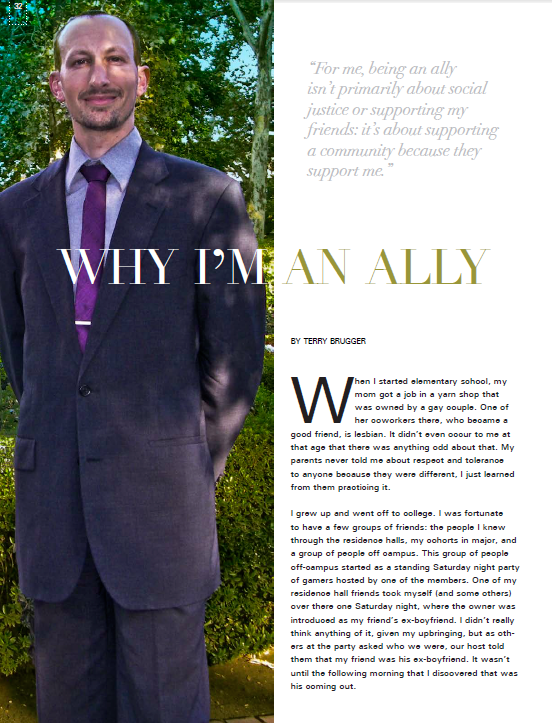 When I started as the Co-Chair of the Communications Team, GLOBE was in need of a brand and style refresh. In the following months, a team of design experts and I re-branded and launched the new brand, giving all Forum documents a instantly consistent and recognizable look and feel.